Student Loan Interest Rate is set to Double in July!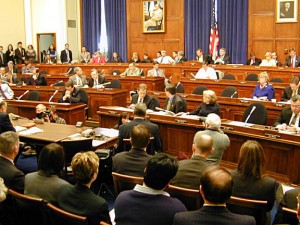 Democrats and the White House strongly support the student loan interest rate bill  that would prevent the interest rate to double as previously scheduled on July 1, 2012.
However as of 5/8/12, Republicans have blocked the Senate from even debating this Democratic bill. Therefore the likelihood that interest rates on college loans will double this summer for 7.4 million students has increased to a very strong certainty.
Republicans say they support heading off higher rates on subsidized Stafford loans. They oppose how Democrats would pay for the measure — raising payroll taxes on high-earning stockholders of some privately owned corporations.
The vote was largely symbolic because the measure had no chance of approval in the Republican-run House. It was also designed with November's elections in mind because it could produce fodder for Democratic commercials against GOP senators.
Republicans want a vote on their own bill freezing interest rates and paid for by abolishing a health care fund.
Tuesday's vote was 52-45 to debate the measure — eight votes short of the 60 needed.
Sen. Olympia Snowe, R-Maine, voted present.
Majority Leader Harry Reid, D- Nevada, changed his vote, which allows him to bring up the measure later. Other than Reid, the vote was along party lines.
If Congress doesn't act soon, rates will double. Which is valuable information for you as a students seeking student loans. Your only chance to lock in lower rates may be right now. So apply soon as the Republican majority on capitol hill may double your costs in only a matter of months from now.
Source: Associated Press