Help Center

Student Loan Help Center Featured Article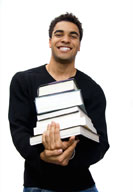 Though many American high schools students choose to pursue traditional routes of secondary education, some students use alternative school loans to pay for attending non-traditional university systems. Alternative schools, which offer a variety of benefits to self-motivated students, are not immune to rising financial pressures however.
Interested in Alternative School Loans?
Get help finding Alternative School Loans today.
Commonly noted differences in alternative schools versus traditional universities and colleges include:
• Lack of standardized grading scale
• Emphasis on individual…