Help Center

Student Loan Help Center Featured Article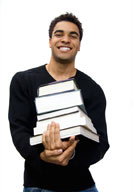 It's vital to research college savings options carefully, just as you would research any investment opportunity. The following are a few of the many investment questions you should ask about each college savings option presented here:
Beneficiaries
What happens if the child dies or becomes disabled?
Can you change the beneficiary? Are there any restrictions on who can become the new beneficiary?
 Distributions and Qualified Expenses
What happens if the child decides to not go to college?
What happens if…