Athletic Scholarships + Student Loans = A Winning Combination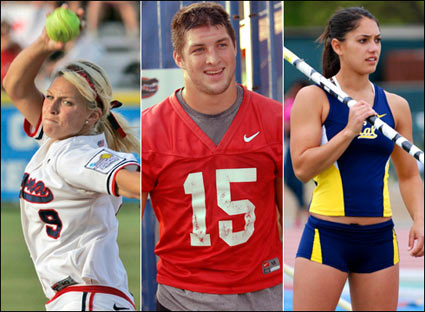 Not everyone can get one single loan that covers all of the costs of attending college. Sometimes a special skill like being a dedicated athlete can help you gather enough resources to achieve your dream of attending college.
Student athlete scholarships are available from a wide variety of sources, ranging from the university you choose to attend to numerous private funds. Both national and local scholarships for student athletes can be found, funded by anyone from the local Dollars for Scholars to multinational corporations. Additionally, you don't have to be on your college's official team to win a student athlete scholarship. Several scholarship opportunities are given to students who have played sports in high school, or who otherwise show a commitment to athletics.
University Scholarships for Student Athletes
The most common student athlete scholarships are awards given to players by colleges and universities. These may cover all or part of tuition and can even include a stipend, since being a student athlete is often a full-time job. Students hoping to be recruited by coaches shouldn't just sit back and hope their dream school finds them. Rather, you should be proactive in conducting a college search to find schools you'd like to attend and teams you'd like to play on, then contact coaches yourself to see if they might be interested in getting you to play on their team and possibly landing you a student athlete scholarship.
Other Student Athlete Scholarships
For students who are looking for other sources of scholarship money instead of or in addition to university athletic scholarships, private scholarship funds do exist. Below is a list of a few popular student athlete scholarships available.
MSU Moorhead Athletic Scholarships 
Application Deadlines: Varies
Awarded to MSU Moorhead students who demonstrate exceptional athletic talent. For more information on athletic scholarships, call the Athletic Department at 218-236-2622. MSU Moorhead has many scholarship opportunities for students.
Alfred State College Athletic Talent Grants 
Application Deadlines: Varies
Grants are awarded to outstanding athletes in the following areas: Baseball Basketball Football Lacrosse Soccer Swimming Applications and additional information can be obtained by contacting the Admissions Office.
Furman University Athletic Scholarships 
Application Deadlines: Varies
The Furman University Athletic Scholarships are partial to full scholarships awarded in 17 men's and women's intercollegiate sports. For more information, contact the director of athletics or the head coach in the sport in which you are interested.
Scholar Athlete Milk Mustache of the Year (SAMMY) Awards
Application Deadlines: March 09, Annually
The SAMMY Awards recognize 25 outstanding high school senior student athletes who represent excellence in academics, athletics, community service and leadership who make the most of their days by grabbing nutrient rich milk with breakfast. Milk Mustache celebrity judges will help select 25 winners from across the country who will receive a $7,500 college scholarship.
William Woods University Athletic Scholarships 
Application Deadlines: March 01, Annually
The William Woods University Athletic Scholarships are available to students who demonstrate talent and skills in the areas of basketball, baseball, cross country, track and field, golf, soccer and more.
World Sport Chicago Scholarship
Application Deadlines: November 16, Annually
World Sport Chicago is the living legacy of Chicago's 2016 Olympic and Paralympic Bid, dedicated to supporting the athletic and academic dreams of Chicago's youth. The WSC Scholars Program was created to help student-athletes prepare for and succeed in college.
With the grueling practice schedule and frequent games that comprise the life of a student athlete, figuring out how to pay for school is probably the last thing you want to worry about. But that doesn't mean that student athletes need to give up on the possibility of winning scholarships to do what they love to do.